BUILDING THE EXHIBIT
PAINTING THE EXHIBIT
It was decided we would subcontract the work of painting the overhead and bulkheads to an outside contractor, while we would take care of the deck.
WOW! Did we underestimate the scope of the project! With who-knows-how-many years of paint, dirt, oil and adhesives on the deck, this was one huge task. While we did get the deck ready for painting, I think at one time or another we all had our doubts.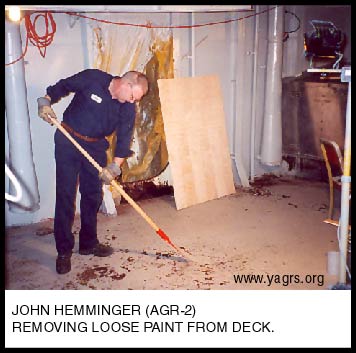 The remaining pictures are thumbnails. Click on a thumbnail to view picture full size the click back on your browser to select another thumbnail







Back to Construction Index Page