Battleship Cove unveils Cold War defense exhibit
The Herald News Staff May 29, 2002
FALL RIVER — The embers of Hiroshima and Nagasaki had barely cooled when the Soviets challenged U.S. military superiority by detonating their own atomic device on Aug. 29, 1949. As the threat of long-range Badger bombers loomed over the consciousness of the American public, top armed forces strategists agreed that early detection was the key to national survival. Radar picket ships, designated YAGR/AGRs, were part of an integrated air defense early warning system to warn the United States of Soviet air attacks. Extending across Alaska, Northern Canada, Greenland, and the North Atlantic, this system was headquartered in Colorado Springs in a secret bunker in Cheyenne Mountain.
At 10 a.m. today, Battleship Cove will unveil New England's first interpretation of these covert Cold War relics at a premiere that will include a crew members' reunion, memorial and wreath-casting ceremony and 21-gun salute on board Battleship Massachusetts.
Designed by Harry Miller and funded by the national YAGR Association in Pawtucket, RI, this exhibit will be introduced by Battleship Cove's chief preservation officer, Commander Strafford Morss. "The YAGRs represented a critical component of this nation's air defense in the Cold War," said Morss, who served on board the picket ship Protector during the tumultuous April 1961 Bay of Pigs invasion. "Given the events of the last year, one must not underestimate the importance of the advance warning provided by such surveillance."
Converted from mothballed World War II Liberty cargo ships, the YAGR/AGRs were evenly divided into two eight-ship squadrons, with four designated ocean stations off the Atlantic coast and four stations off the Pacific Coast. East Coast ships were home-ported at the Navy Construction Battalion Base at Davisville, Rhode Island. The Pacific Coast ships operated out of San Francisco Bay. Manned by 165-man Navy crews skilled at fighter interception tactics, the ships were under the administrative control of the Eastern and Western Sea Frontiers. North American Air Defense Command was assigned operational control.
Equipped with three massive high power radars, extensive radio communications and an airplane-homing beacon, YAGRs engaged in mock battles against Strategic Air Command bombers testing NORAD air defense capabilities with penetration tactics including electronic jamming and deception. In the early 1960s, barely a decade after their inception, land-based and submarine-launched ballistic missiles rendered these venerable vessels obsolete. By 1966, all the ships were out of commission, replaced by massive shore-based radars, thus ending an intriguing chapter in American naval history.
For more information, call 508-678-1100 or 800-533-3194 or check the web site at www.battleshipcove.org.
©The Herald News 2002
Battleship Cove exhibit honors a rare breed of sailor
DEBORAH ALLARD-BERNARDI, Herald News Staff ReporterMay 30, 2002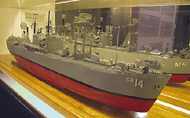 Herald News Photo by OMAR BRADLEY
FALL RIVER — While people today are well aware that war strategists are working with sophisticated electronics to predict terrorist attacks on the United States, many may never have heard of an older form of early detection — a radar picket ship.
On Wednesday, Battleship Cove unveiled its new picket ship exhibit and held a crew member reunion and memorial service for the sailors who worked on those ships. There was also a 21-gun salute, "Taps," a wreath-laying and a Korean War veterans color guard display.
Radar picket ships, called YAGRs (pronounced Yagers), were used for about a decade in the 1950s and '60s as an early warning system to predict Soviet air attacks on the United States.
The ships were equipped with radar, communication equipment and homing beacons, sophisticated for their time, which tracked air travel all over the country. The men often went out to sea for 30 to 35 days at a time, spending their lives below decks.
"I was in the operations department," said Captain Albert Nannini, who served aboard the YAGR USS Tracer from 1960 to 1962 — his first duty aboard a ship. "We were very busy monitoring air traffic," Nannini said. "We might not see the sun for 30 days." Working with a small crew, Nannini said they were like a family living on a large ship. Below decks, they had a swimming pool and a room with a volleyball court.
He went on to say that because YAGR ships were unseen and not too many knew about them, it was like they didn't exist, not even to the Navy. "We operated independently of the Navy," Nannini said. "When we went to sea we were under the operation of the Air Force. (The Navy) didn't know we existed."
With the permanent exhibit aboard the Battleship Massachusetts, however, the existence of YAGR ships and sailors has now been immortalized.
"They were the silent heroes of that era of the cold war," said Capt. Ernst M. Cummings, USCG (Ret.), executive director of USS Massachusetts Memorial Committee Inc., at the ceremony.
Radar picket ships saw their demise early on. Technological changes came quickly. Barely a decade after the picket ship's inception, land-based and submarine-launched ballistic missiles rendered the ships obsolete. By 1966, all of the radar picket ships were out of commission. They were replaced by massive shore-based radar units, ending their chapter in American history.
Many of the men who served aboard those ships were present with their families at Wednesday's ceremony, some dressed in original uniform. There were 345 attendees who turned out for the unveiling.
The exhibit was designed by Harry Miller, founder of the YAGR Association and former crew member of the radar picket ship USS Protector and funded by the national YAGR Association in Pawtucket, R.I.
"It is something all of us can be proud of," Miller said. "It's the only exhibit of its kind aboard a museum ship." Miller and 15 picket ship crew members worked for the past three years to develop phase 1 of the exhibit. Located on the second deck, port side forward, the exhibit consists mostly of model ships and photographs, giving the viewer an idea of how these ships contributed to the country's safety.
"The YAGRs represented a critical component of this nation's air defense in the Cold War," said Cmdr. Strafford Morss, USNR (Ret.), and Battleship Cove's chief preservation officer. Morss was an engineering officer from 1960 to 1962 on the USS Protector. "At sea, life was smooth and rough, hot and cold, wet and windy, clear and foggy, but never dull," Morss reminisced.
Rear Admiral Thomas Patterson, representing the USS Guardian, AGR-1, the first radar ship in commission, remembered the day he received his assignment to serve aboard the YAGR. "I received (my orders) in August of 1954," Patterson said. "Not too many people knew what a YAGR was. I drove out there, and there she was, a liberty ship." Patterson said he typically spent 35 days on the ship and five on port.
"We'll be remembered on this fine ship," Patterson said. "We did our job the best we could."
According to Miller, the second phase of the exhibit will include a radar room, photos, plaques, programs and ship relics. Considered a minor class, Miller said no one really knew about or cared about radar picket ships.
"It gives the public a better idea of what (picket ships) were," Miller said.
Deborah Allard-Bernardi may be reached at dbernardi@heraldnews.com.
©The Herald News 2002